Celebrate your independence and freedom of speech with Joomla's best blogging components!

Here in the U.S. where Joomlashack is based, today is the Fourth of July, the day Americans celebrate our nation's independence. While many remember the American Revolution as a war, the real struggle was one of ideas and words, not bullets and bayonets.
Email marketing: Love it or hate it, it's the way the web works. No matter what kind of website you have, building a list and communicating to a constituency is a key part of any successful website.
In 2006 I THOROUGHLY tested and reviewed many email systems, and my conclusion was that when your email lists start to get above a thousand subscribers, a whole set of problems arise that basic newsletter programs simply can't solve. You need the backing of a 3rd party company ensuring your email deliverability.
So then I investigated 3rd party hosted providers: Detailed Reviews of Email Marketing Solutions

Then I realized there was a problem. None of these solutions integrated into Joomla. A critical factor was missing: when users register on a Joomla site, importing them into an email list can be difficult and time consuming. There needed to be an automated process.
So we created one --- J!Contact
SmoothGallery is a javascript and CSS powered slideshow gallery written by Jonathan Schemoul. Jonathan has released this nifty piece of code to the open source community so we thought you might like to use it in Joomla! We're happy to release our beta version of Smoothgallery for Joomla! today. This is a free component to help you manage your smooth galleries in Joomla! This component is for Joomla 1.0.x and is available here for download. Official updates will be available in the forum. Look for the 1.5 version coming soon. Enjoy!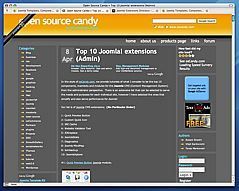 OScandy.com has made a very nice blog post on their website of their Top 10 Joomla! Admin Extensions. Check it out!