Are you looking to add Joomla forms to your site?
It is possible to use the Joomla core, and we explain how to do that in this tutorial: How to Create a Joomla Contact Form.
However, there are some limitations to using the "Contacts" component in the Joomla core. The default component doesn't have many features and doesn't save your submissions.
So, if you want a powerful contact form on your Joomla site, you'll need to look for a new extension. Here's our ranking of the 6 best Joomla forms extensions. We tested dozens of these extensions and compared their pros and cons.
---
#1. Shack Forms
Shack Forms is the easiest and most flexible Joomla forms extension. Shack Forms allows you to create contact forms, booking forms, support ticket forms, and many other types of Joomla forms.
This forms extension has 10,000's of users, with more than 300 reviews and a perfect 10/10 score on the JED. Here's the current JED listing. We use Shack Forms on Joomlashack and all our other Joomla sites.
What stands out with Shack Forms is the flexibility. You can show your forms in your articles, inside pop-ups, in modules, or anywhere you want. The image below shows an "Ask a question" button on the side of your site ... click the button, and the form appears in a lightbox.
Shack Forms has you covered for both simple and complex tasks. On the simple side, you can place forms inside your articles or inside a module. On the powerful side, you can do things such as send your form entries to Google Sheets, plus integrate with MailChimp, Acymailing and other newsletter systems.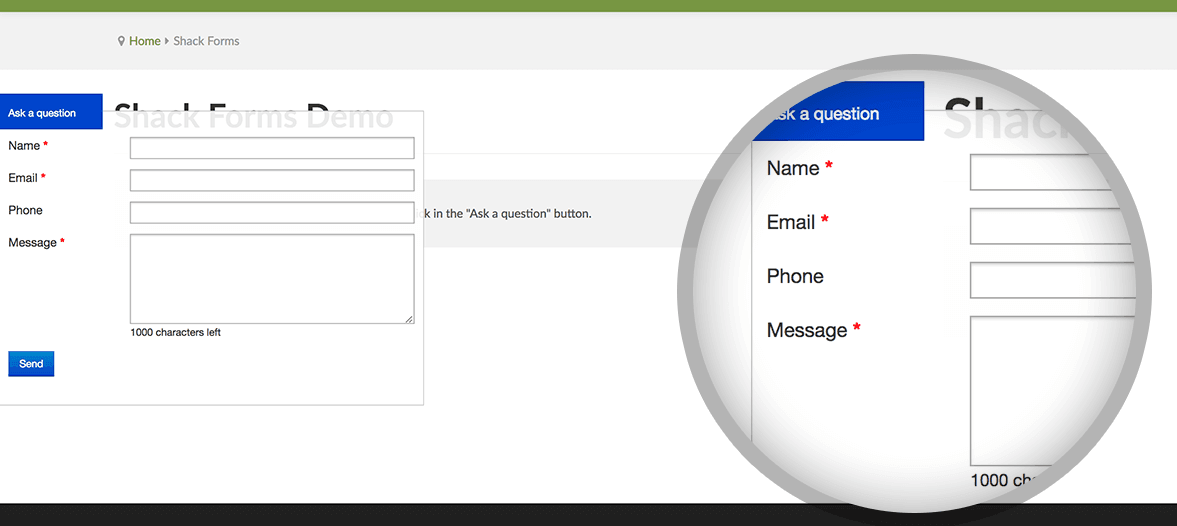 ---
#2. Convert Forms
Convert Forms is a Joomla forms extension with a single purpose: building your mailing list. It seems like a simpler version of marketing automation extension such as jInbound.
Convert Forms integrates with campaign services like MailChimp, GetResponse, and ActiveCampaign, but it also allows you to manage everything inside Joomla.
Everything in Convert Forms is based around marketing, so people contacting you are all called "Leads". The assumption is you will probably put Convert Forms inside a pop-up box or a banner across your site. It's all about driving people to your email campaigns.
There is a free version of Convert Forms, but it does have a lot of locked features and messages persuading you to upgrade to the Pro version. On the positive side, there's a drag-and-drop form builder that's nicely designed and easy-to-use. Convert Forms has 30 reviews on the JED.

---
#3 Quix Form Builder
If you prefer building Joomla pages with the Quix Page Builder, the Quix Form Builder is its built-in form building Element.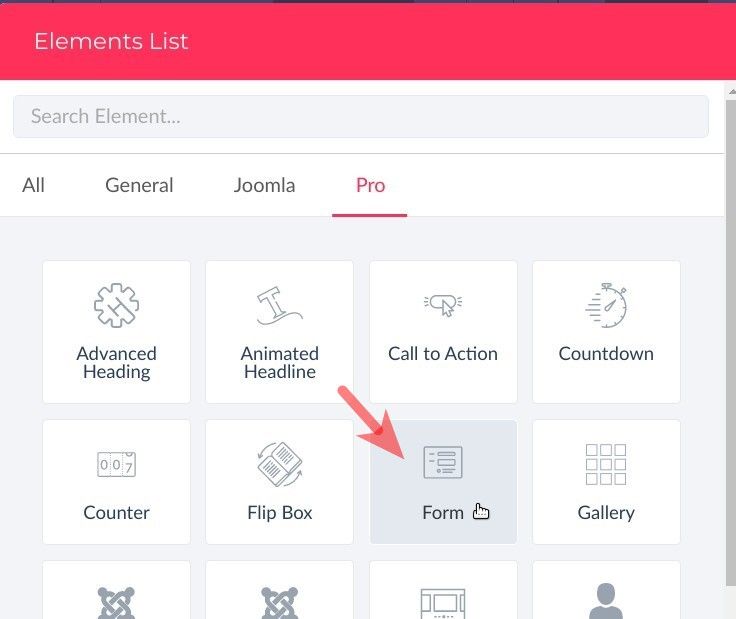 It is very easy to use even if you are an inexperienced Joomla end user. Launch the Quix Form Element by clicking the "Form". This will bring up the pre-set form with three fields: Name, Email, and Message.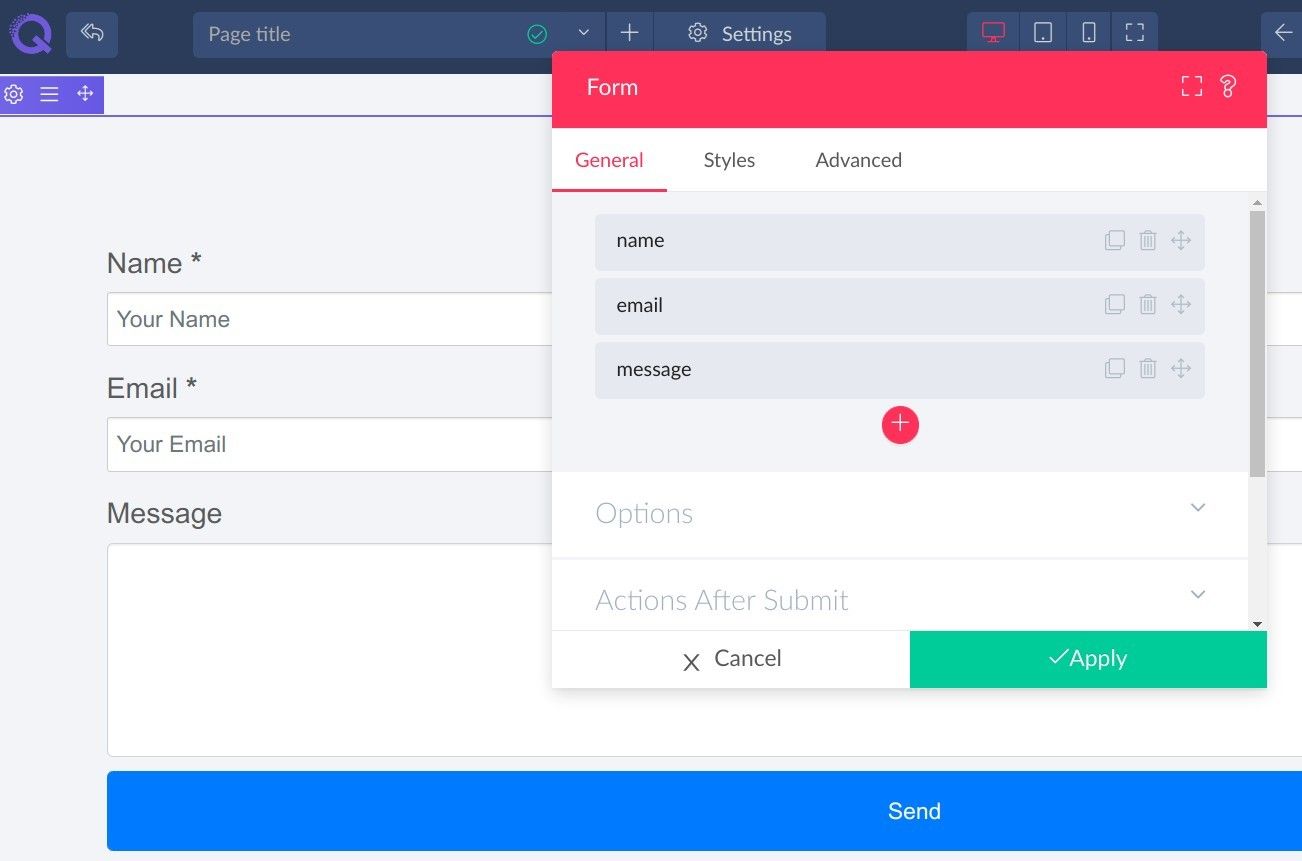 Gave to the page with this form a title and save it. Now you can instantly run a live preview to see how your form will look on the frontend of your Joomla site via mobile devices and desktops.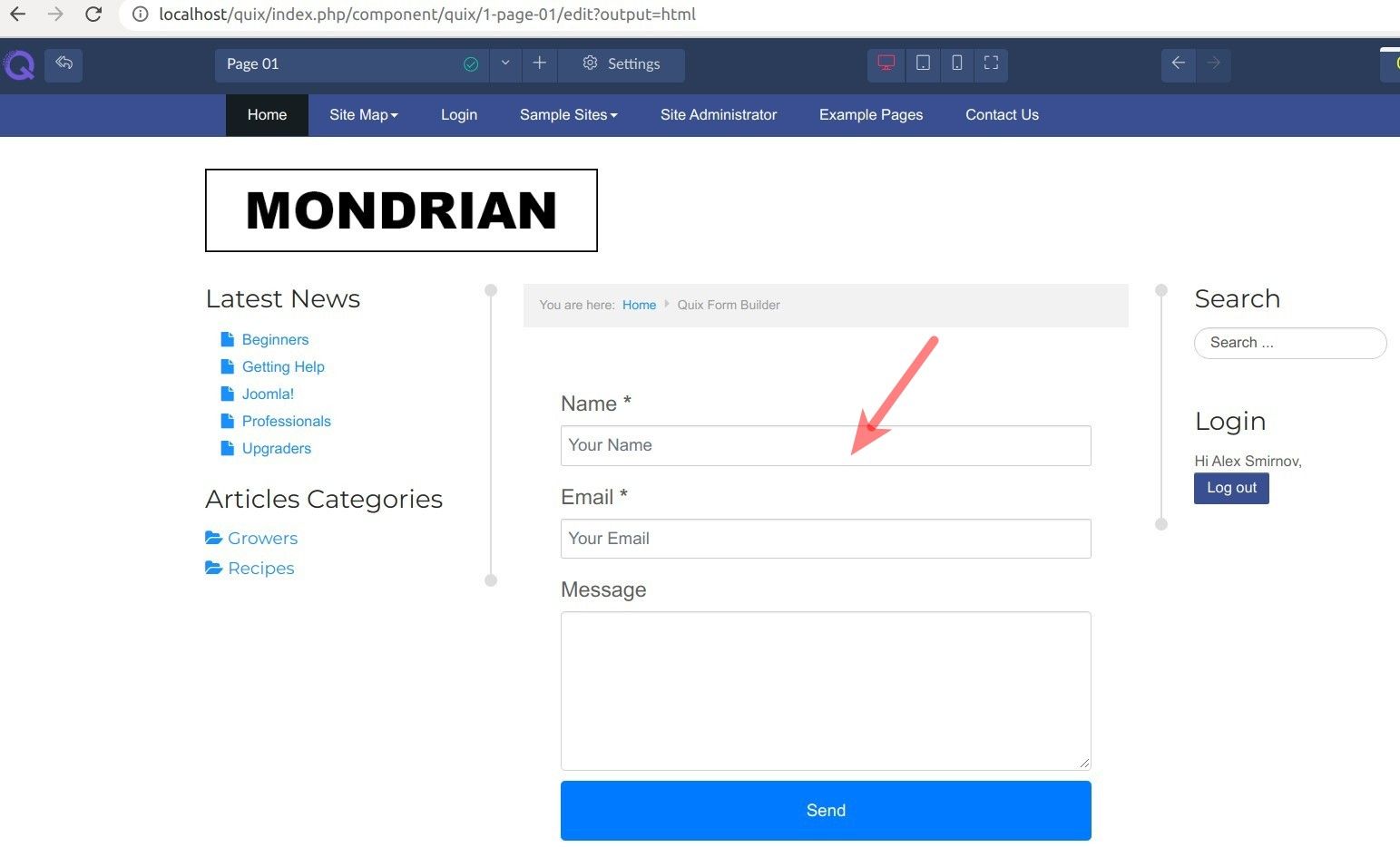 If you would like to build up upon this initial form, the Quix Form Element offers a ton of drag-and-drop options. Even a beginner Joomla user without technical skills will find them user-friendly and intuitive.
---
#4. visForms
The best way to think of visForms is as a super-powered version of the Joomla core Contacts extension. visForms uses the Joomla UI and has a very similar set of fields.
Unlike some of the other extensions on this list, there's no drag-and-drop form builder with visForms. Everything is done through the traditional Joomla interface. Although this approach will not be attractive to people who want to visually design their forms, there are a lot of powerful options in visForms. Each field has a ton of different settings.
VisForms has a free version that works well, plus a Pro version with a wide variety of extra plugins. All-in-all, VisForms is a good option for people with advanced needs such as showing Joomla form results on a Google Map or setting up multi-page forms.

---
#5. BreezingForms
I had a mixed relationship with BreezingForms during my testing. So much is confusing, but so much is powerful.
What's confusing? The installation, the user interface, and the terminology. I got lost several times during a long install process and then again trying to learn the interface. But, once you learn to navigate Breezing Forms, there's much you can do. Even more than visForms, this Joomla forms extension is aimed at developers. They make that very clear on their product description:
With BreezingForms you are not locked up in a golden cage and confronted with limited features for the sake of easiness. Instead, we face the complexity and try to make it as easy and open as possible for you to finish even the most complex tasks.
There are "Scripts" and "Pieces" in the BreezingForms admin and these allow you to write PHP and Javascript to extend your forms. BreezingForms also exposes almost all of your Joomla database tables, so you can choose where to write your data. BreezingForms is best for building applications, rather than just forms. In that sense, it's comparable to Fabrik.
BreezingForms has a free version, and also a Pro version with several additional plugins.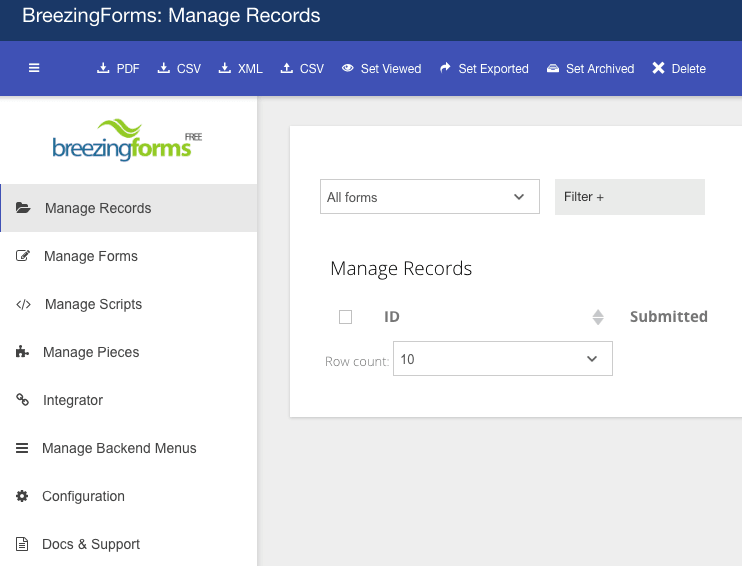 ---
#6. ChronoForms
ChronoForms takes an interesting approach when compared to the other extensions on this list. ChronoForms divides most steps into "Easy" and "Advanced" options. Certainly, I did find it easy to use on the "Easy" option. The drag-and-drop Joomla forms builder is nicely done and the "Preview" option inside the admin area is helpful. The "Advanced" form unlocks a lot more options, including the ability to translate your form.
The free version of ChronoForms has some limits on field usage and also they place a credit link at the bottom of your form. You can unlock these by upgrading to ChronoForms Pro.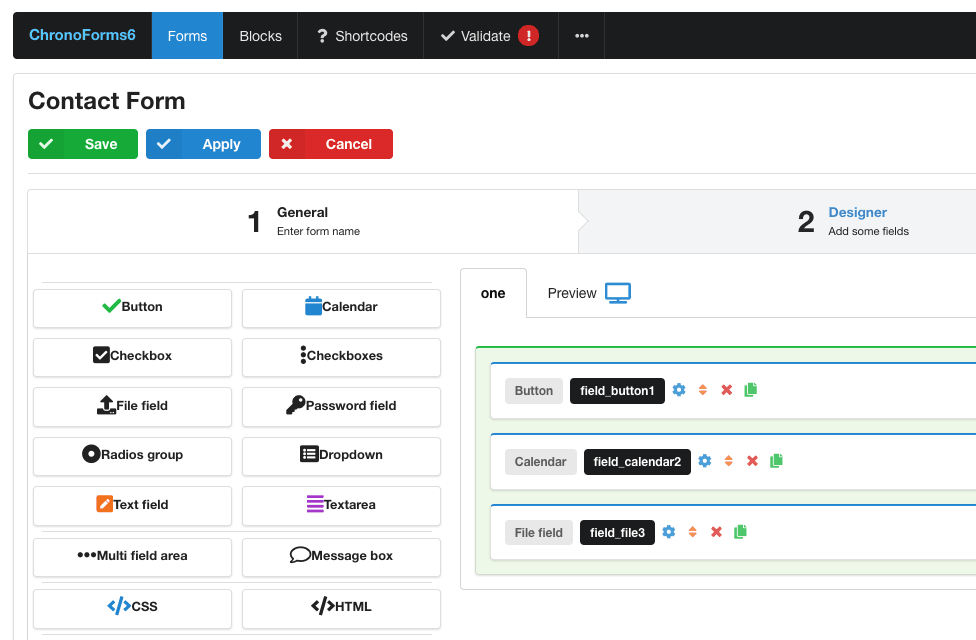 ---
Which is the best Joomla forms extension?
The extensions we mentioned in this article can all help you create Joomla forms. However, deciding the best forms extension will depend on your needs.
If you need a forms extension for your Joomla site, Shack Forms is the first place to look. It strikes a nice balance between ease-of-use and flexibility.
If you want a more advanced experience, BreezingForms is a really good option. If you want to build your mailing list, try ConvertForms. And visForms and ChronoForms are both worth a look.
Thanks for using Joomla! Let us know in the comments if you have any questions about Joomla forms. And if you're looking for a bigger list, be sure to check out our top Joomla extensions guide.
---
What's Next?
Save $1,000's when you sign up to Joomlashack's Everything Club.
You will get access to all our 32 extensions, 20 templates, and legendary support!