Since 2016, we've managed we've managed to grow Joomlashack consistently. It's not been easy because Joomla's popularity has dropped during those years.
What's our secret? It's the freemium business model.

Our aim at Joomlashack is to give away enough free resources that people learn to trust us. We give away free extensions and hope that people trust us enough to sign up for the Pro version.
Freemium isn't the right approach for every business, but it works well in many industries. Here's a step-by-step guide how we have grown Joomlashack, and hopefully it has some useful tips you can replicate in your business.
---
Step #1. Create a painfully useful free resource
It sounds like an obvious thing to say, but any sales process needs to start with something that people really want.
At Joomlashack, we provide free versions of many extensions. You can download free versions of 14 extensions: OSMap, Shack Locations, OSDownloads, Tabs and Sliders, OSMeta, OSDonate, OSYouTube, OSVimeo, OSEmbed, OSWistia, OSTimer, OSContent, Shack Search, and O-Spam-a-not.
My experience is that this process won't work not investing real resources in these freebies. I'd estimate the free extensions have at least 50% of the featues of the Pro versions. And at least 35% of our company's resources go into supporting and updating the free extensions.
That 35% cost hurts, and there are definitely days when I reconsider this investment. Normally it's when we've dealt with a particularly obnoxious or entitled user of the free extensions.
But, if we didn't genuinely invest time and money into these free extensions, people wouldn't download and use them. If you provide weak resources, or cover them in advertisements, people won't trust you.
The freemium approach can work for software, services, training, consulting, SAAS and many other type of business. If you decide to take this route, I recommend that you make your free version so good that it makes you feel genuinely uncomfortable.
---
Step #2. Get the user's real email address
Once you have your free resource, make sure you are only exchanging it for the user's real email address.
We use OSDownloads to provide the free extensions. There is an OSDownloads category here at Joomlashack which contains all our free verisons: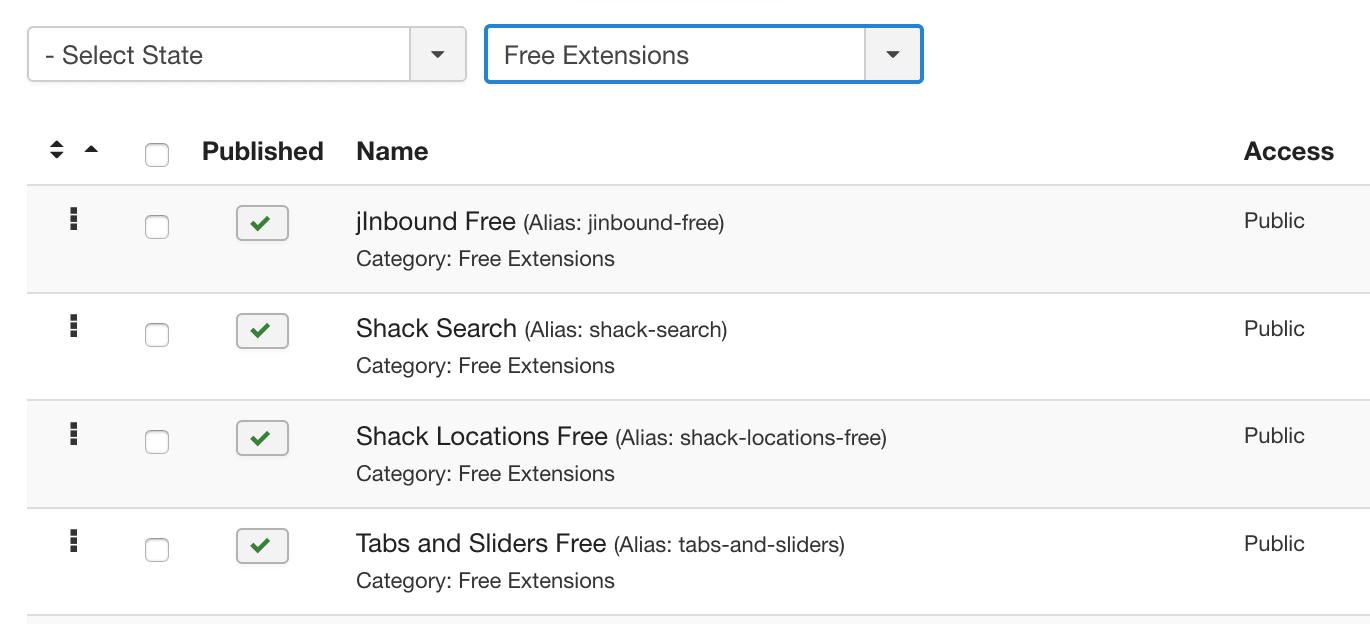 Each extension uses the "URL" download option. The URLs lead to the file hosted on Github. We chose this because many email providers won't allow you to send .ZIP files as attachment. This URL option is the safest way to provide the download.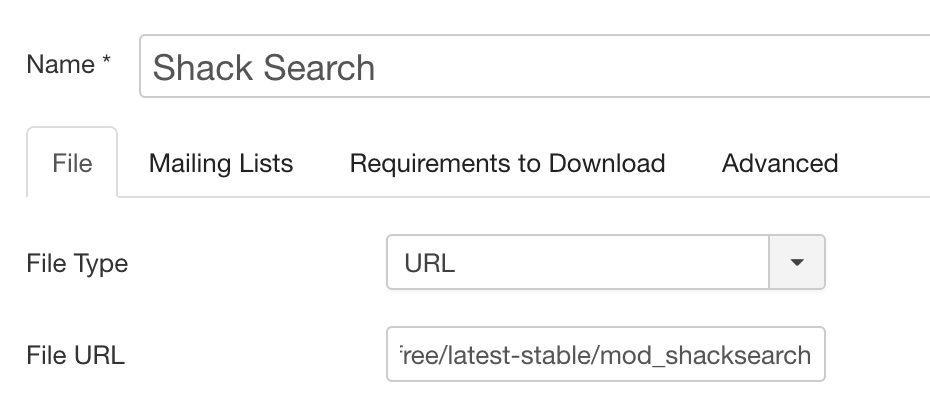 Each extension is connected to MailChimp. So if someone downloads the Shack Search extension, they are automatically added to the "Joomlashack" audience in MailChimp and to the "Shack Search Free" group.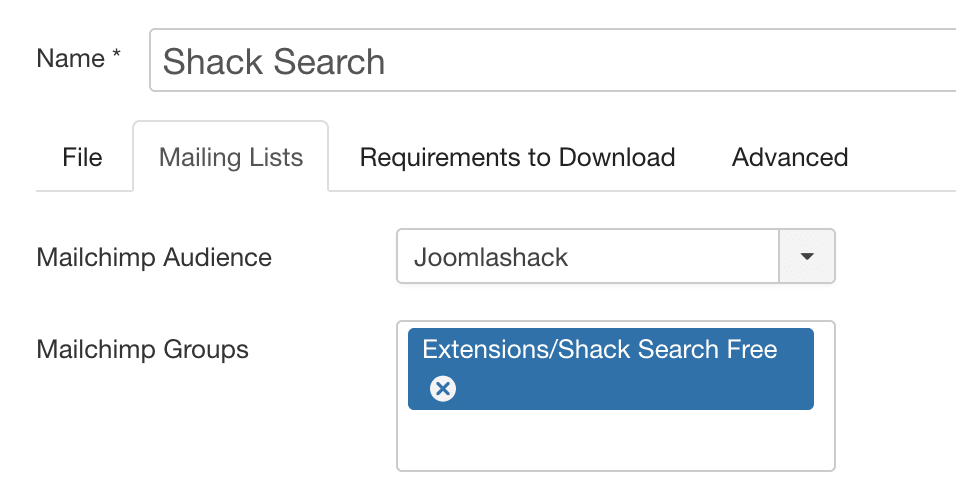 Under the "Requirements to Download" tab, we set the "Require Email" to "Yes". OSDownloads does have other options such as asking people to share a tweet in order to get the download.

This next part of the process is important because we do want the user's genuine email address. Lots of people will enter fake email addresses into our system, as you can see in this next image. To me, this is an essential part of the trust-building process. You trust us with your real email address, and we'll repay your trust by only providing valuable resources.

When a visitor requests a free extension, we ask them to enter their email address: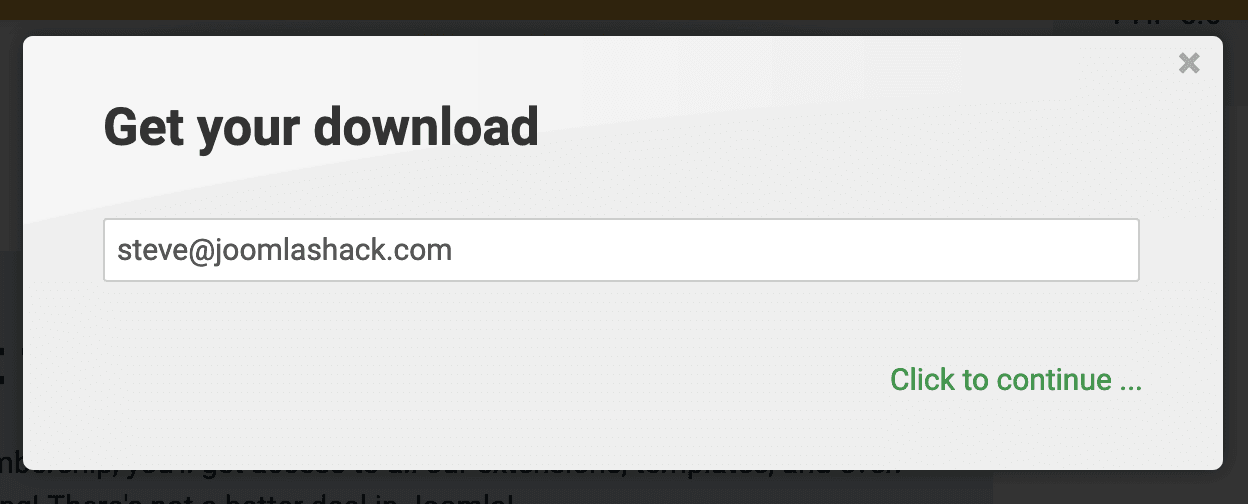 And then we'll show a message that asks them to check their inbox:

Here's the download email that we send to users. The link in the email goes to back to OSDownloads and triggers the file download.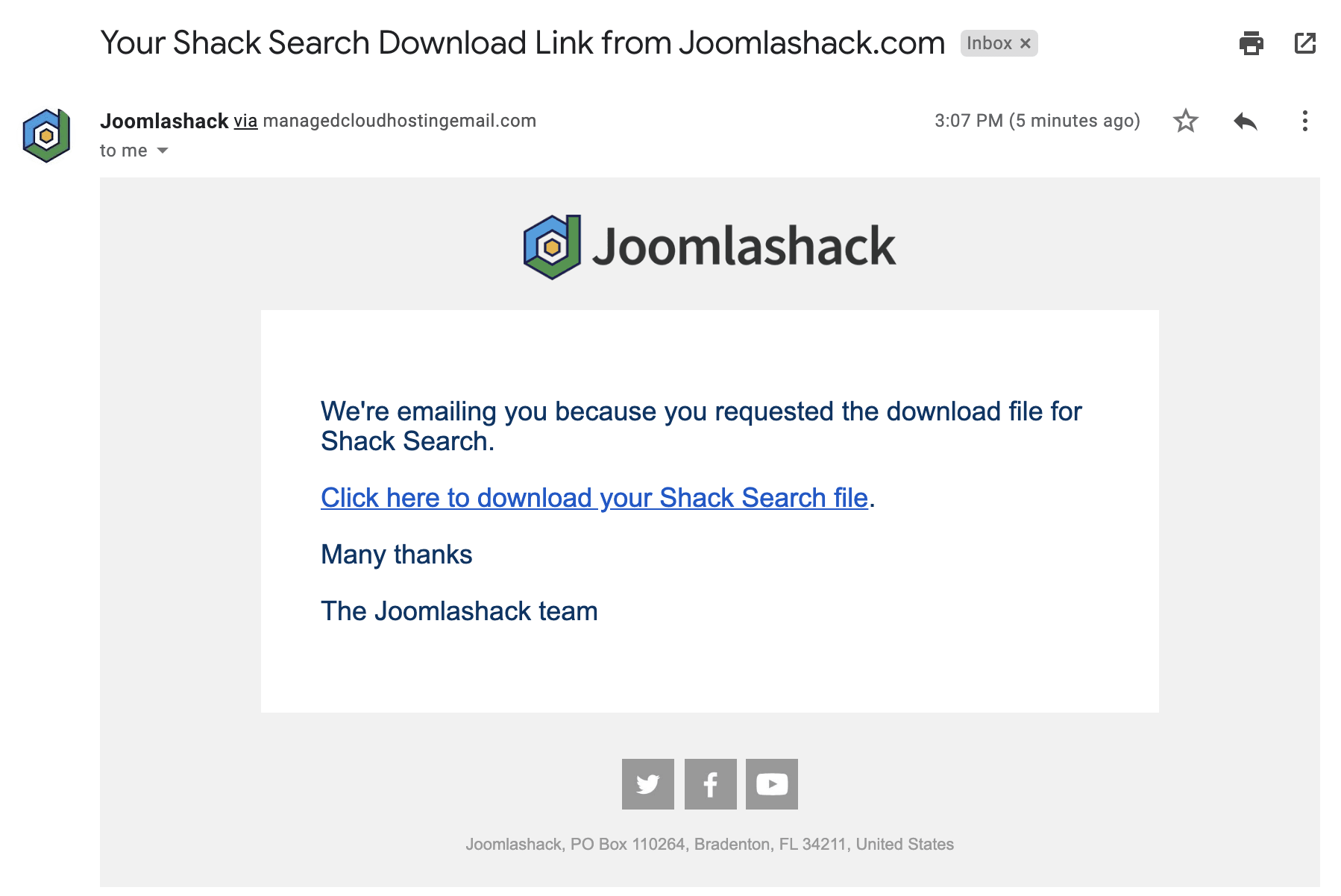 ---
Step #3. Provide useful follow-up information
After someone has downloaded a free extension, we send them a series of 3 emails. This series takes about 4 days after the initial download.

These emails are about building trust. We don't ask for a sale and don't promote the Pro version. Instead, they focus on helping the users. The image below is a sample of the first email we send out.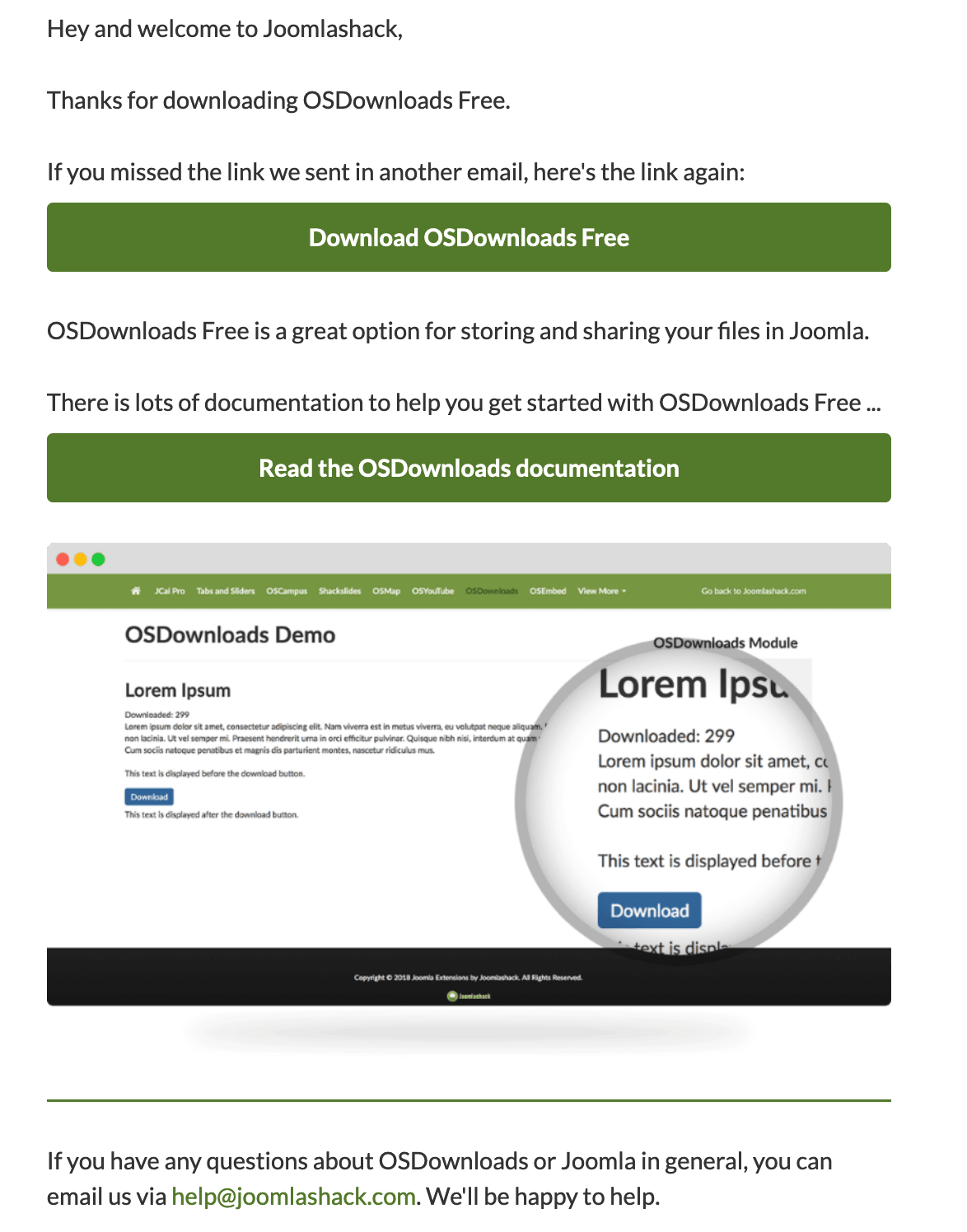 Once someone finishes this marketing automation sequence, they join our general email list. These emails are also heavily weighted towards being useful, rather than asking for a sale. Looking back at our weekly newsletters, only about 8 out of 45 emails contained a direct and obvious sales pitch. Many of the emails provide access to more free resources. If you don't open our emails for a few weeks, we'll also automatically remove you from our lists.
Here's a visual overview of this whole process. Each step builds directly on the previous step: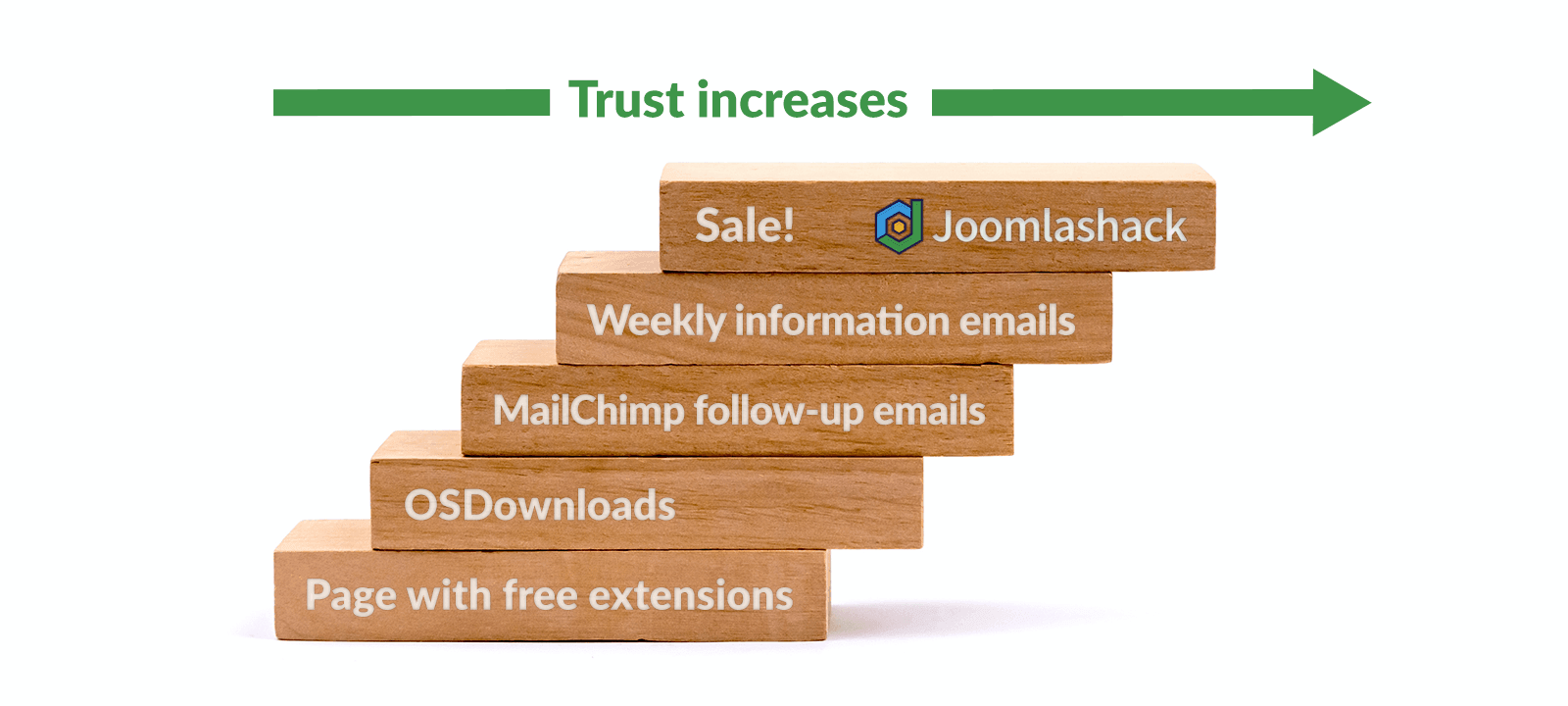 ---
The results of this Freemium approach
One of the downsides to this freemium approach is that it's not easy to say exactly how successful it is. You can't put a dollar figure on "trust".
The one number we know for sure is that we collect about 100 to 150 new email addresses per day.
We could try and line that up with our sales, but there are some limitations. First, 50% of our extensions don't have a free version so their sales can't be directly traced to free downloads. Second, some people use free versions for years before they consider becoming a paid customer.
What I can say for sure is that this approach builds trust. If we give a customer a free extension today, it might be months or years before they're ready to buy the Pro version. But if we're getting over 100 new users per day, and we're giving them useful software and advice, I like our chances.
---
Summary
I hope this guide gives you an idea or two for your own business.
This is not something I recommend as a fast solution. It takes time to create free resources, configure OSDownloads and MailChimp, and then write the emails. You can't earn someone's trust overnight. But as a slow-and-steady way to grow a business, it's working for us at Joomlashack and it could work for you too.