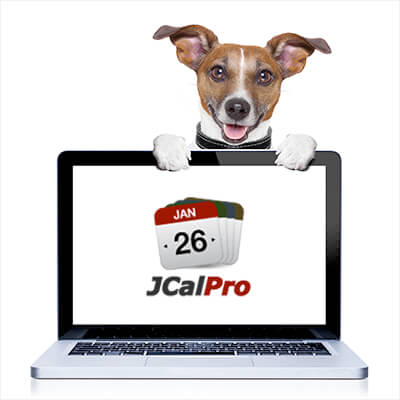 Today, I'm delighted to welcome JCal Pro, the popular calendar and events extension, to Joomlashack.
JCal Pro is one of the most famous and widely- used extensions in Joomla.
We will continue to maintain and develop JCalPro and are excited about adding useful new features.
Some background to this move
JCal Pro's history dates backs to the Mambo days when one of the few fully featured calendars was ExtCal, a port of the standalone PHP calendar of the same name.
A serious security issue combined with a lack of ExtCal releases resulted in a fork and the birth of JCal Pro in 2006 by Anything Digital. Since then, JCal Pro has become one of the most popular calendar extensions for Joomla, and in 2007, Anything Digital announced that JCal Pro would be made available commercially.
Over many years, it's been my privilege to work with Vic Drover from Anything Digital. Vic and I have worked together on Joomla and the Open Source Matters board. We also sold Admincredible to Vic and his team at Watchful. The Joomlashack team been excited users and supporters of Watchful since then.
As Watchful has grown, Vic has had less time for his Joomla extensions. So, the Joomlashack team has agreed to acquire JCal Pro.
When can I buy JCal Pro from Joomlashack?
Now. You can click this link and buy JCal Pro!
What will change for existing Joomlashack customers?
If you subscribe to the Joomlashack Everything Club, your membership just became much more valuable!
What will change for JCal Pro subscribers?
Initially, almost nothing. We wanted to announce the changeover before it happens.
However, documentation and support have moved to Joomlashack.com today.
In the next couple of weeks, several changes will occur:
JCal Pro's update servers will change and point to Joomlashack.com. A new, Joomlashack-branded version of JCal Pro will become available.
We will also be contacting subscribers to help them continue their subscription (access to updates and support) at to Joomlashack.com.
We will combine the three current versions (Starter, Standard and Ultimate) of JCal Pro into just one version. All JCal Pro subscribers will get access to all features.
Do you have any questions?
This email address is being protected from spambots. You need JavaScript enabled to view it. and we'll be happy to help.