The Joomlashack Blog
Written by Barrie North

Barrie North

Published: 19 August 2009

19 August 2009
So you want a website, and you have heard some of the buzz about open source.
Joomla, Drupal and Wordpress have all been mentioned, but you are lost and confused.
No problem, this guide is an easy 10 step process to getting started with building a website with Joomla and some insider tricks and tips to make sure you are making best use of it.
We are going to look at the following things:
Why do you need a website, and why use Joomla?
What actually is Joomla?
How do I install Joomla?
How should I set up my site?
Picking a Template
Organizing Content
Creating Navigation
How can I add features to my site?
How can I make Joomla better for SEO?
How do I keep my site updated, and what lies ahead (Joomla 1.6)
---
You think you need a website... but why?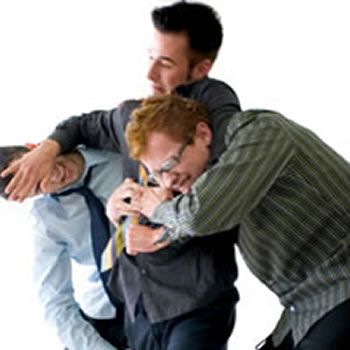 Unless you have clear goals, your website will not have any focus, and not contribute to your organization's goals.
A restaurant might want to increase onsite foot traffic
A non-profit might want to increase donations
A consultant might want to increase sales leads
A school might want to communicate better with parents
But unless you identify your goals, you are building your site blindfolded!
But what shall I use?
Joomla, Drupal or Wordpress?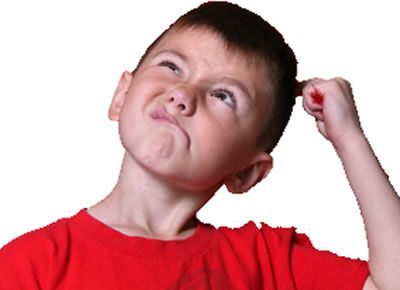 Joking aside, Joomla is an excellent solution that lies in the middle of Wordpress's ease of use and the flexibility of Drupal.
Resources
---
Joomla is an open source content management system.
So what does that mean?
Open Source means that anyone can contribute to the code, improve it, or distribute it. This means the platform is a living project being created and improved by a community of developers all over the world.
A content management system uses a database to place content into designated places on the web page. Its dynamic and in real time.
Let's look at a forum as an example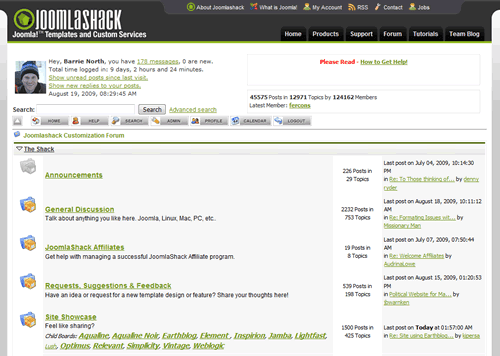 Joomla works the same way, the template creates "buckets" or "placeholders" for content, and then the CMS pours content into them as needed.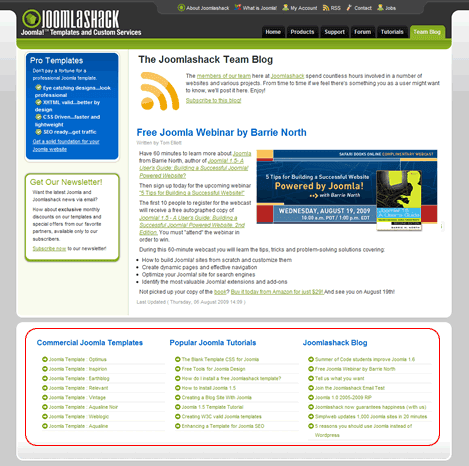 Here, the articles are being dynamically generated as well as the bottom lists of links.
Joomla is
Easy
Powerful
Cheap (not free!)
Barrie North's 80/20 rule
80% of what you want to do will take 20% of the effort
You don't really know what your site visitors want
Resources
---
To install Joomla, you need a web account with a MySQL database.
Or you can set up what is know as a localhost.
Download Joomla files
Either

Upload file package to server then extract
Extract then upload individual files

Create a database
Browse to site and run installation wizard
Pray to all you hold holy that permissions are ok
Delete installation folder
Resources
---
One of the hardest parts to Joomla is setting up the site. To start, there are so many options it an be overwhelming.
The three elements of a Joomla site are:
Template (the look and feel)
Content (the "beef")
Modules (the gravy round the outside)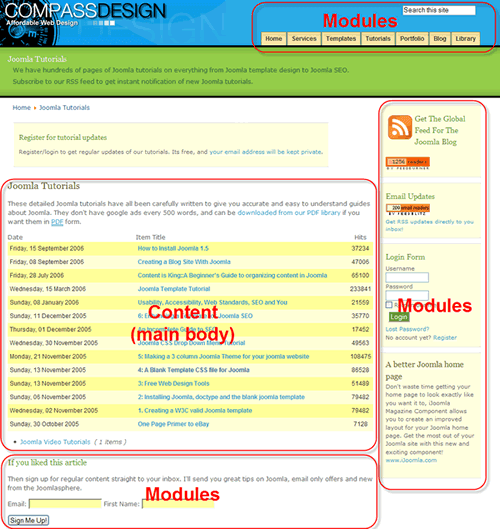 ---
Joomla comes with three templates:
To get started, just use one of these, then you can graduate to a 3rd party template of which there are thousands. You can get free ones or professional ones ranging from $25-$70
Of course www.joomlashack.com, but others of mention:
www.joomlapraise.com
www.rockettheme.com
www.joomlart.com
www.joomlajunkie.com
Commercial innovation has driven Joomla templates much quicker than some other content management systems.
---
The main "meat" content is made up of articles.
Content, or articles need containers, these are called Sections and Categories, and must be set up first.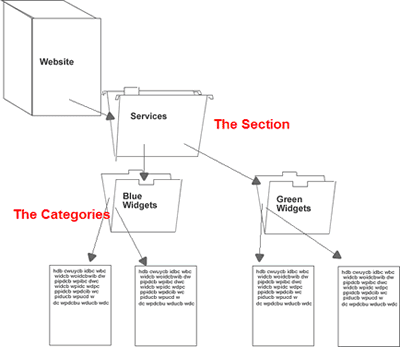 ---
Nothing can been seen on the webpage until it is linked to. Next you must set up navigation.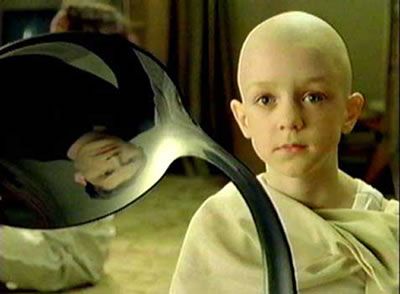 ---
Joomla has thousands of 3rd party extensions, from forums and shopping carts to lacrosse league managers or women's menstrual cycle trackers.
Some are free, some are commercial. Some are GPL, some are proprietary (no, these are not the same thing!)
Lets add some extensions!
Resources
---
Joomla holds its own for SEO!
Joomla has something called SEF (Search Engine Friendly URL's) that turns complex url's into easy to understand ones.
Google doesn't care now anywhere, so SEO is not SEF.

Keyword Use in Title Tag (4.9)
Global Link Popularity of Site (4.5)
Anchor Text of Inbound Link (4.4)
Link Popularity within the Site's Internal Link Structure (4.1)
Age of Site (4)
Topical Relevance of Inbound Links to Site (3.9)
Link Popularity of Site in Topical Community (3.9)
Keyword Use in Body Text (3.9)
Global Link Popularity of Linking Site (3.7)
Topical Relationship of Linking Page (3.6)
Source:https://www.seomoz.org/article/search-ranking-factors
Concentrate on creating relevant titles for your articles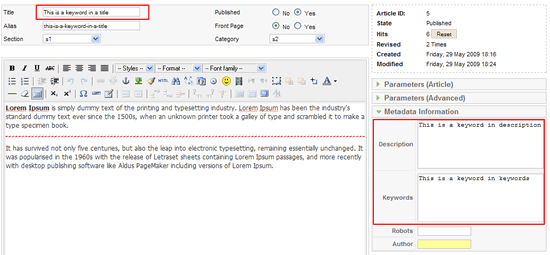 This will mean your pages have a strong foundation for SEO and will be accessible and usable.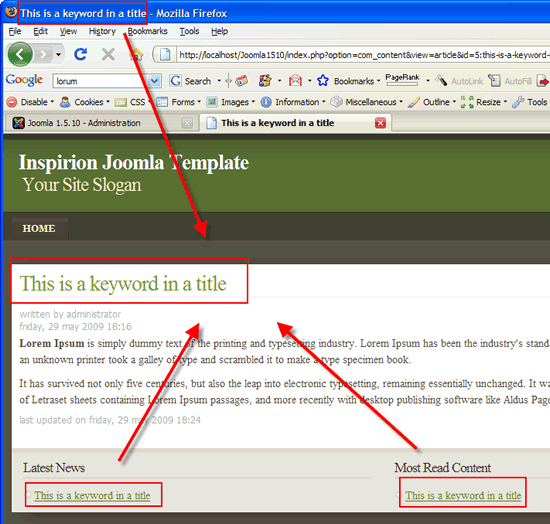 Resources
---
One of the challenges of open source is keeping up to date with the more frequent patches and security fixes. Someone on your team will have to know how to do these.
Joomla.org releases patches which are a bunch of files that need to be applied/ftp'ed onto your server.
Major releases come around every year or so with many new features. The current version is 1.5 and 1.6 will be released in the next 12 months.
There are some extensions and services that will keep you site updated for you.
Resources
Written by Barrie North

Barrie North

Published: 05 August 2009

05 August 2009
What you really... really want!
Last week we launched our new promise of our 100% satisfaction guarantee.
This week we take another step in improving ourselves to better meet our customers needs.
We have launched our Uservoice feedback forum for the Joomlashack community. We want you to tell us what you'd like to see from Joomlashack, and we'll do our best to make it happen.
For general feedback, please post in our core forum: joomlashack.uservoice.com
Written by Barrie North

Barrie North

Published: 04 August 2009

04 August 2009
There are lots of email marketing services: iContact, Mailchimp, Aweber etc etc.
But I don't think there has been a scientific test and review of how well they deliver, all of them give their deliverability rates, but how can we compare them?
I need your help to do this very test and compare these services, here's how...
Written by Tom Elliott

Tom Elliott

Published: 09 July 2009

09 July 2009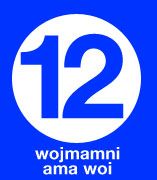 Last week the Joomla Project team released Joomla 1.5.12, codename "Wojmamni Ama Woi." No explanation for the Swahili meaning was given, but this version's various security and bug fixes are easily explained by checking out the project's 1.5.12 release.
The notes on Joomla.org points out that the version of the WYSIWYG editor TinyMCE received an important upgrade in this release, which reminded us to remind you that if you aren't using WYSIWYGPro, you're mising out on the best editor available for Joomla 1.5.
Nonetheless, be sure to do your updates early and often, as there are likely bad people out there trying to hack your Joomla site. You can also check out SecureJoomla, which will add another layer of protection on top of the great work by the Joomla Project guys.
Written by Tom Elliott

Tom Elliott

Published: 25 June 2009

25 June 2009

JCal Pro, one of the best-known Joomla extensions and a Top Ten winner in Joomlashack's Ultimate Top Ten Joomla Extensions survey, has a new release that is worthy of great attention from the Joomlaverse.
JCal Pro is the rare Joomla 1.5 extension that is taking huge leaps forward while maintaining excellent support.
And oh yeah- after years of asking, the most requested feature in the history of the JCal Pro series is about to be released!
Written by Barrie North

Barrie North

Published: 24 June 2009

24 June 2009
Be sure to read a full description of SecureJoomla on in our Joomla Extensions and Components store.
Once in a while a product for Joomla comes along and really makes me sit up and pay attention. One such recent product was a <https://www.joomlashack.com/extensions/388-securejoomla-joomla-security-system">new Joomla security component called SecureLive. A simple module that you can install on your site and immediately secure Joomla more effectively.

Now, I'll admit to not knowing much about the hard core details of server and Joomla 1.5 security, so, I contacted someone who did, Tom Canavan, the author of Joomla! Security and a frequent speaker at Joomla events on the subject. I thought that we could install SecureLive on a real production site and we'd see if Mr Canavan could break in.

Over to you Mr Canavan....
Written by Barrie North

Barrie North

Published: 22 June 2009

22 June 2009
We are very excited that some great new resources to learn how to Joomla are now available, Joomla! 1.5: A User's Guide: Building a Successful Joomla! Powered Website (2nd Edition) and Fundamentals of Joomla! (Video Training)! The author is Joomlashack's own Barrie North.
The second edition of the book is an update of the best selling book on Joomla, bringing it up to date with the latest version of Joomla 1.5. It also has a completely new chapter on marketing your site and SEO, two topics that change continuously.
The Joomla Video Training is a completely new release. Its a packed 9 hour training video on Joomla 1.5. You can listen as I explain some of the most difficult Joomla concepts, like sections and categories and creating your site navigation.
If you'd like to get some insight into the background behind these new releases, you can head over to cmswire and Dee-Ann LeBlanc's interview about them.
Written by Barrie North

Barrie North

Published: 18 June 2009

18 June 2009
Joomlashack's Inspirion Joomla Template is one of the most innovative templates currently on the market. Its built using the 960 grid, a CSS system that gives you a tableless layout and a fast loading site, great for SEO!
Its one of the first commercial professional templates to validate XHTML Strict. This is a high benchmark to meet, and provides a great foundation to help you site rank in search engines.
On top of that, Inspirion has a full set of core Joomla template overrides. This means that your Joomla 1.5 site will be shown with no tables at all and makes use of semantic headings (h1-h3). I'll give you one guess why that is good!
I think that the Inspirion template might be the best template around for SEO right now. Making sure your template helps your SEO efforts, rather than hurts them, involves lots of factors, tabless layouts, valid code, semantic headings, SEO-friendly logo replacement- Inspirion has it all.
Written by Tom Elliott

Tom Elliott

Published: 09 June 2009

09 June 2009
Last month Joomlashack asked our community, "What are the Top Ten Joomla extensions?" So what did 2,591 voters and 12,642 votes reveal?
Announcing the Joomlashack Ultimate Top Ten Joomla Extensions, with cash prizes to the top two extensions. The grand prize winners:
#1 Virtuemart, "the complete e-Commerce shopping cart solution for Joomla" wins a $200 donation from Joomlashack!
#2 JoomlaPack, "an open-source backup component" wins a $100 donation from Joomlashack!
Congratulations to these two high-profile open source projects. Both of these extensions are licensed under the GPL and are available for free on their project websites.
Now, what about the other 120+ extensions suggested and voted on? And oh yeah- what's the Top Ten?
Read about the official Joomlashack Top Ten- with a tie!