Right after I published our tutorial on HikaShop, we had several inquiries about USPS Shipping. There is a module for it and it's free, but it's a little hard to find. Here's where to get it and a short tutorial on how to use it.
Step 1. Downloading and installing the plugin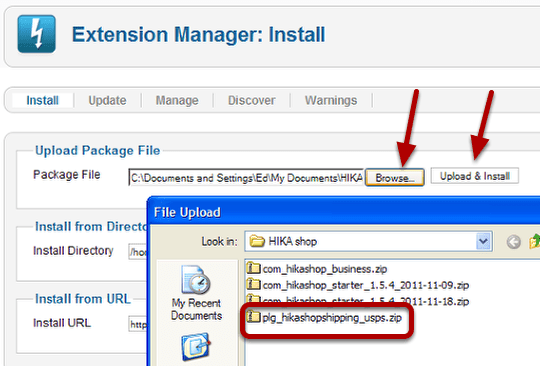 Before you start be sure you have an account with USPS and you have your USPS Web Tools ID available.
You can get the plugin from this URL www.hikashop.com/support/forum/2-general...20&lang=en#21838 - you can only download it if you are a member of the forum.
After downloading, install it using the Extension Manager as you would for any other installation: navigate to Extensions > Extension Manager > Browse > Upload & Install.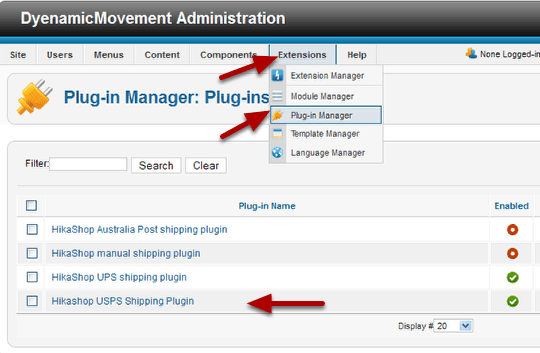 Navigate to Extensions > Plugin Manager and activate the plugin. Click on the plug-in name.
Step 2. Activate the plugin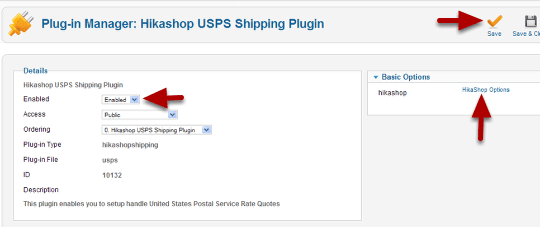 Click on HikaShop Options. Choose Enabled from the dropdown and click Save.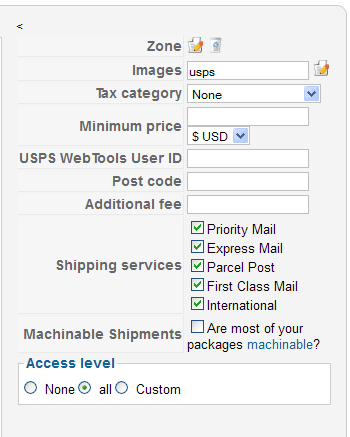 Fill in your USPS Web Tools ID and other information and you're set.
You can also access this configuration information from the HikaShop dashboard if you need to make any changes.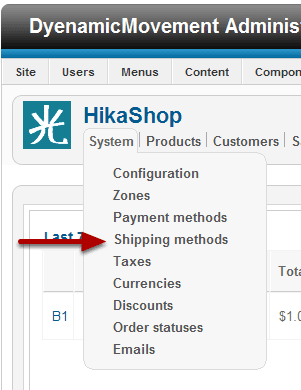 To get to the configuration, just click shipping methods from the System tab on the dashboard. If you've filled in the weights and dimensions on your products as you entered them, you should get automatic shipping calculations.
If you have problems, click the help button in HikaShop or visit their forum.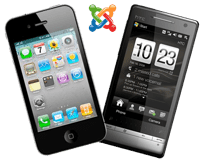 Over a year ago we wrote the Ultimate Mobile Joomla Guide. We discussed two different techniques for making your Joomla site ready for mobile phones. Both of those techniques worked by showing one template to desktops and another to mobile devices.
Since that post a third option has emerged: responsive design. Responsive design means that your one and only template is flexible enough to look good on any device.
In this blog post we'll show you some of the very best mobile-ready Joomla templates and we'll focus on those that use responsive design. In this list you'll find Joomla implementations of some famous responsive design frameworks including Twitter Bootstrap, Zurb Foundation and HTML5 Boilerplate.
Written by Steve Burge

Steve Burge

Published: 01 February 2012

01 February 2012
This week we're celebrating our 2nd birthday. Wooohoo!
To celebrate, we've got a great present for all our members.
A year ago we launched the OSToolbar. If you use the OSToolbar, you can watch our training videos directly from inside your site.
Until now we've been selling the OSToolbar as a separate product for about $50 per site. Today, on our birthday, we're changing that in a big way.
By default, Joomla only allows you to upload certain file types and only allows you to upload files of a certain size.

For example, these are the file types that a normal Joomla site allows:
bmp,csv,doc,gif,ico,jpg,jpeg,odg,odp,ods,odt,pdf,png,ppt,swf,txt,xcf,xls,
BMP,CSV,DOC,GIF,ICO,JPG,JPEG,ODG,ODP,ODS,ODT,PDF,PNG,PPT,SWF,TXT,XCF,XLS
Read more: Changing Legal File Types and Maximum Upload Size
Written by Dominick Ruggero

Dominick Ruggero

Published: 24 January 2012

24 January 2012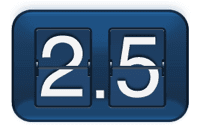 Ever since the release of new versions after 1.5, there have been a lot of questions as to how to migrate or upgrade. It is now a year since the latest series of Joomla releases started and we have now reached 2.5 which will be supported by the Joomla project for a long time. It's a great time to upgade.
This guide will take you step-by-step through the general procedure of how to migrate to Joomla 2.5.
Please read through all the material as this is not a light undertaking.
Written by Steve Burge

Steve Burge

Published: 24 January 2012

24 January 2012
The Joomla 2.5 release series has a lot of useful, under-appreciated features. One of them the ability to easily create different layouts for modules.
In this tutorial we'll take you through a simple example of how it works.

If you install a new Joomla 2.5 site with sample data, you'll see these two menus on the left-hand side. They both have identical styling.
Read more: How to Use Joomla's Alternative Layouts for Modules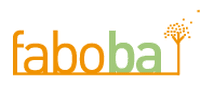 For many years, there was one name that everyone turned to when creating multilingual Joomla sites: Joomfish. However, that changed in 2011.
First, some of the features from Joomfish were incorporated into Joomla 1.6, and so it was possible to make a decent multi-lingual site using only the Joomla core. We have a tutorial on how do that here.
Second, a release of Joomfish for the latest version of Joomla has been slow in coming. It's hoped that Joomfish will soon be ready any day now for the latest Joomla. However, for now many people have been using a fork called FaLang. In this tutorial, we'll show you how to use FaLang. When Joomfish becomes available, the instructions will be almost identical.

We all do it sometimes. We download and test out something new. It breaks something and we scream. We scream because we tested it out on our live site.
Testing something new on your live site is a recipe for disaster. You need a test site. Here's how to set one up with either Joomla 2.5 or 1.5.
Written by Steve Burge

Steve Burge

Published: 11 January 2012

11 January 2012
You're still on Joomla 1.6? Yikes. Joomla 1.6 is over a year old now and isn't supported any more because there have been several new versions since then.
OK, I'm not going to give you too much of a hard time. You might have been busy, maybe you're taking over someone's website or you might be stuck on Joomla 1.6 for one of a hundred other reasons.
Let's focus on getting you upgraded to Joomla 2.5 which is the latest and most secure version.
For this tutorial, we're going to assume you're brand new to this entire idea of installing Joomla and go back to the beginning. The installation procedure for 2.5 is almost the same process it's always been, but we're going to note a new feature and use updated screen shots for you, so we have the most current installation tutorial available.