Thank you all for your support of Joomlashack.
Joomlashack started in 2005, but our team took over the site in 2016.
At the end of every year we write a review of what happened at Joomlashack. If you want to look back, here is our 2016 review, 2017 review, 2018 review, 2019 review, and 2020 review.
We always aim to avoid writing "everything was awesome" posts. We try and give you honesty and insight into Joomlashack's year. There are always plenty of ups and downs. You'll find plenty of stories of both success and failure in these posts.
---
Joomlashack's numbers in 2021
The headline number is that Joomlashack grew just over 3% compared to last year. This result is on trend for recent years:
2017: we grew 88% year-on-year.
2018: we grew 37% year-on-year.
2019: we grew 11.5% year-on-year.
2020: we grew 9.3% year-on-year.
2021: we grew 3.3% year-on-year.
This chart below shows our revenue since we started selling Joomla extensions. The pink line is a trendline stretching across all the years. You can see that we grew quickly in 2017 and 2018, but growth has been slower since then: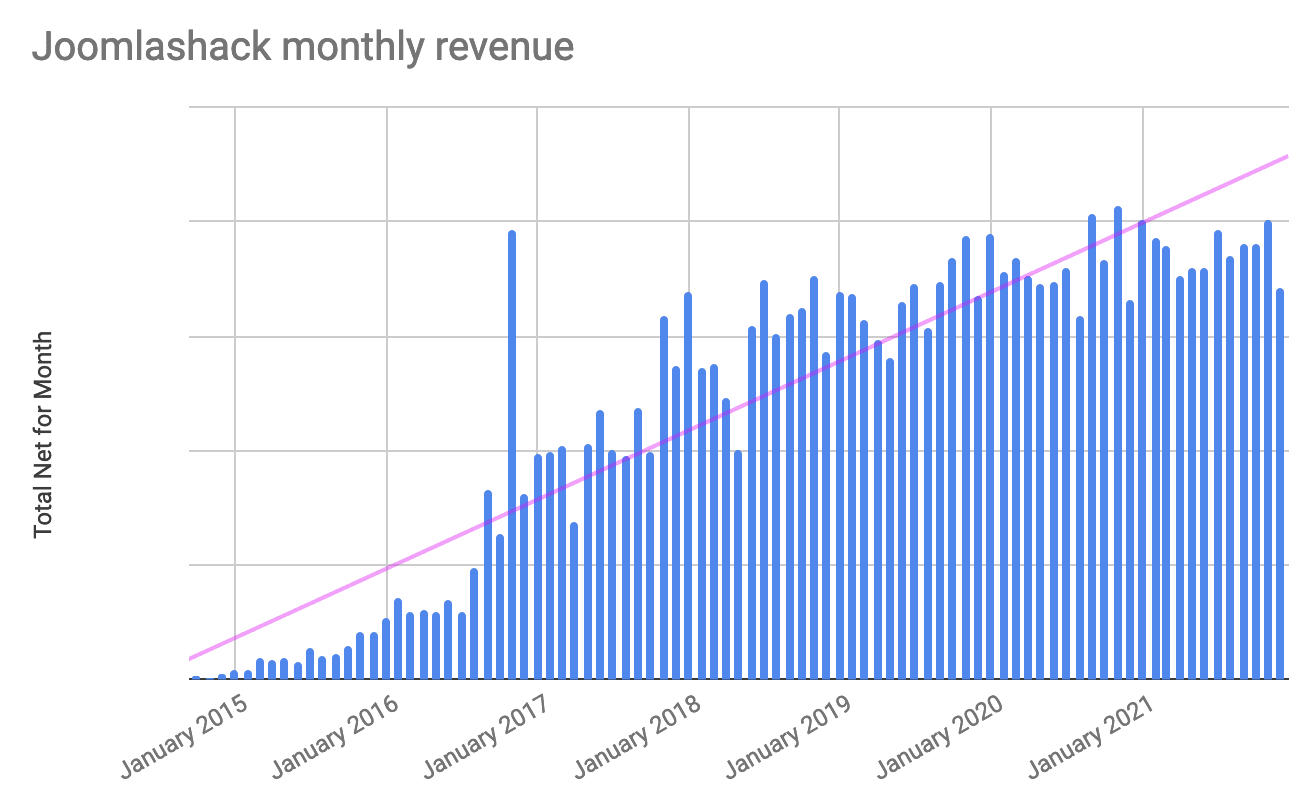 This image below shows our subscriber growth since taking over Joomlashack. We're now just over 3,300 active members. We continue to believe very strongly in the importance of recurring subscribers. More than 80% of our revenue comes from recurrring payments.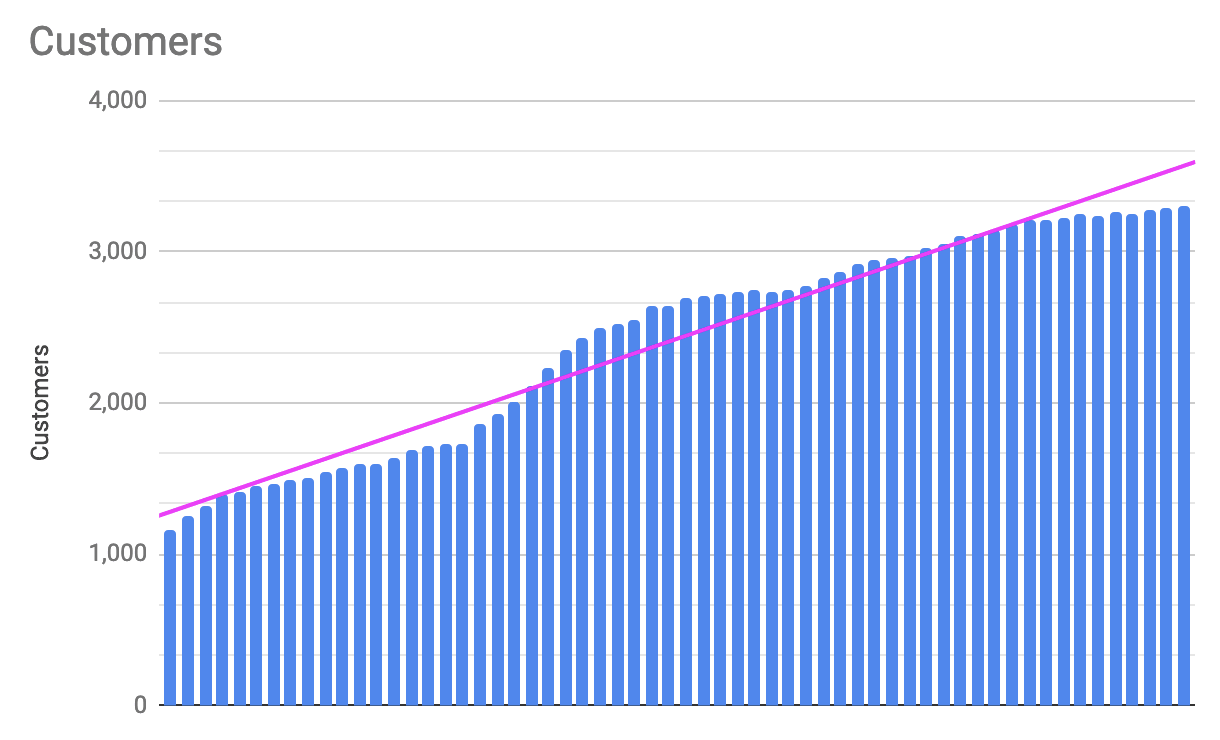 ---
Joomlashack and the Joomla community
At the beginning of 2021, we started posting a monthly round-up of Joomla community news. The aim was to include all the coolest news, tutorials, videos, and official updates. People seemed to love these updates and the positive feedback led us to keep publishing these all year: January, February, March, April, May, June, July, August, September, October, November, and December.
We've posted all of these updates, plus a lot more in the Joomlashack Facebook group, so join if you want daily Joomla updates. We put effort into growing that Facebook group and making sure that it's a friendly and positive place to talk about Joomla.
---
Distributed Denial of Service (DDoS) attacks
In our 2020 review, I said this:
"We were hit by ongoing DDOS attacks for several weeks. From talking with other Joomla developers, the attackers targeted several of the larger Joomla companies. If you saw a Cloudfare or Sucuri firewall on a Joomla site this year, this is probably the reason."
Those attacks continued in 2021 and only became more aggressive and cunning. There were no abnormal attempts to hack our sites. The attackers simply focused on sending as many bots as they could to overwhelm our servers. This image is from our Cloudflare account and shows how one attack produced over 100 million bot visits in 24 hours.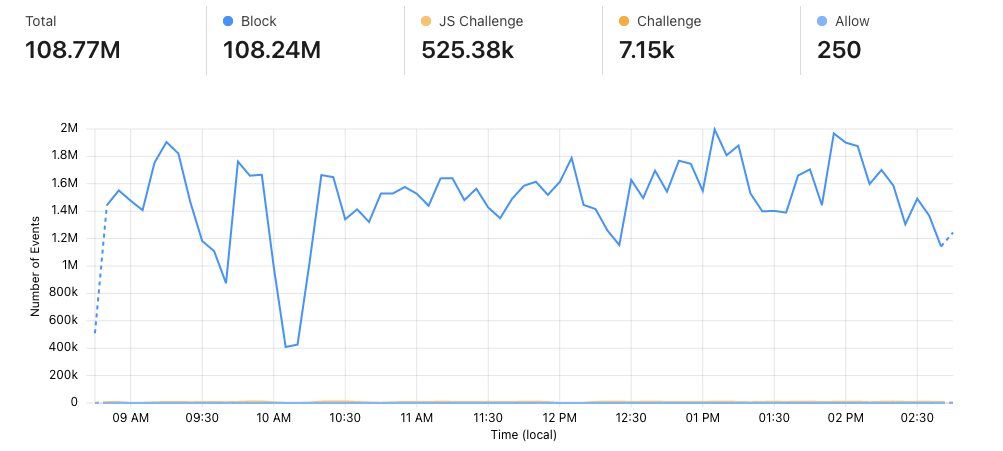 To survive these attacks, we had to harden every aspect of our infrastructure. We also came to rely heavily on two providers:
Cloudflare is incredibly useful. It can take a while to learn all the tools they have to offer, but it's worth it when millions of bots are hammering your site. And working with Cloud Access, we've protected areas of our site that Cloudflare can't defend. For example, we learned that attackers can find your IP address and then bypass your Cloudflare firewall. This same problem happened to the official Joomla.org sites, as you can see in image below. The solution to these DDoS attacks is to work with your hosting company and hide your server's IP address, or only allow access to your server from a Cloudflare IP address.

---
Joomlashack and Joomla 4
Joomla 4 arrived! This was awesome news for the Joomla community. We've been writing about Joomla 4 since August 2017, so it was wonderful to see the launch happen.
Joomla development had been stuck while we waited for Joomla 4. Anyone wanting to build cool, new features for the Joomla core was stuck because Joomla 3 was feature-frozen and Joomla 4 hadn't arrived yet. Now we get to enjoy the new features in Joomla 4.0, but can also look forward to improvements in 4.1, 4.2, and future versions.
Overall, our developers enjoyed working with Joomla 4. The platform itself is a signficant improvement compared to Joomla 3.
However, this doesn't mean that updating extensions was easy. Some small plugins can be migrated in a couple of hours, but big extensions such as Shack Forms and JCal Pro will take months of work. This post explains Joomlashack's approach to Joomla 4. We managed to update 15 extensions last year and have 5 more due for release early in 2022.
Our current plans for 2022 boil down to "get Joomla 4 done, and then look ahead".
The whole Joomlashack team is focused on upgrading five more major extensions to Joomla 4:
Shack Locations
OSCampus
Shack Toolbox
Shack Forms
JCal Pro
That's going to be our company priority until they are all done. At that point, we'll stop to assess how things are going on, and what we'll work on next.
---
2021 was a rollercoaster year
It was a strange and often difficult year here at Joomlashack. Here are just a few of the ups-and-downs in 2021:
Bad: There were several points at which I wondered if Joomlashack had too many challenges to keep going.
Good: There were moments at which I thought Joomlashack might acquire or merge with other Joomla companies and grow bigger.
Bad: There were times when upgrading our software to Joomla 4 took all the energy our team had.
Good: We powered through the normally quiet summer months, and had solid revenue throughout the year.
In the end, Joomlashack didn't encounter either the best or worst possible outcomes. When we arrived at December 31 and looked at the financial numbers for 2021, Joomlashack was in a similar position to the beginning of the year. 2021 was a roller-coaster ride that ended with steady growth.
---
Over to you
Thanks for using Joomlashack and Joomla over the years.
Let us know what you think in the comments below! We couldn't do this without your support.