Written by TJ Baker

TJ Baker

Category: Joomla Tutorials Joomla Tutorials

Published: 24 March 2009

24 March 2009
Validating a Website's HTML
One of the first things that should be done after a site is constructed, and repeated at various steps as things are changed/updated, is the validation of the site's HTML. In the case of a Joomla powered site, HTML errors can come from 4 places:
Templates
Components
Modules
Articles
Why Validate?

It's simple really; HTML errors can present unwanted issues with your site, and is the leading cause of issues with template display that we see. These issues present themselves even more so when a 'pure CSS' template is in use, as CSS is unforgiving of left out closing brackets (>) and other often overlooked HTML errors that are introduced by extensions or other invalid code inserted in articles. While extension code is not the ONLY vehicle by which invalid code can make its way into a site, it has become one of the leading cause of issues that we have seen.
How to Validate?
The World Wide Web Consortium (W3C) has provided a handy tool to run your site's HTML output against the standards for validation which may be accessed at http://validator.w3.org
Testing your site's validation is as simple as putting your site's URL in the Address field and clicking 'Check':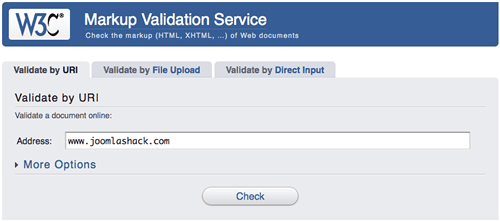 After the service runs you'll be presented with a 'results' page. If the site is free of HTML errors you will see a message of congratulations and some nice buttons you can proudly display on your site if you wish: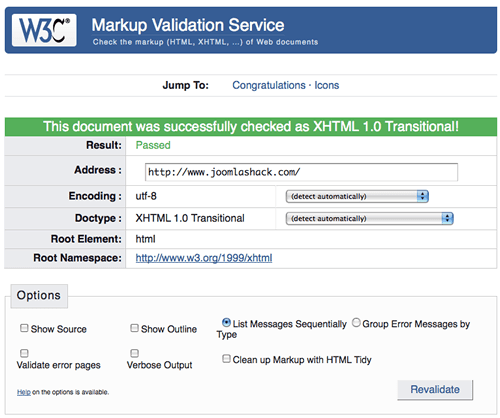 If there are errors, you will be presented with a results page that outlines the errors: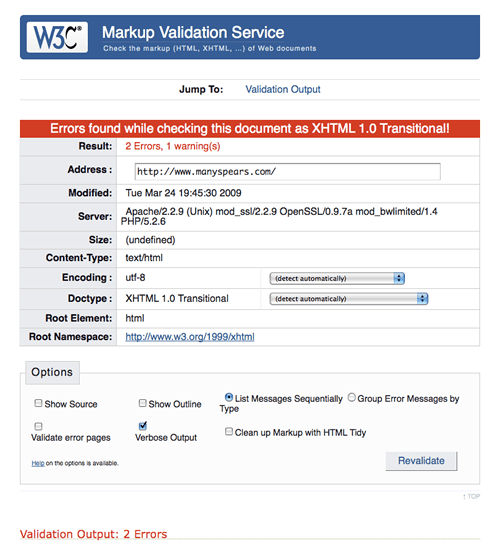 What to do With This Information
Seek and Destroy! Or better put, find and fix the errors.
The 'Validation Output' that is presented will show all of the errors that are found, although using the info with a Joomla powered site may not be as simple as if we were validating a static HTML site. This is because in Joomla there really are no 'pages' except for the one that is presented to the viewer at the time of viewing. The Joomla 'page' is a collection of output items from the database, presented and laid out within the confines of the template. The Validation Services runs the presented 'page' against the standards and outlines the errors on the presented 'page', but in our instance the items on our 'page' could come from any number of sources. For instance, if you have a website that has a calendar component, a commenting component and a component to manage your advertisements you not only have the default Joomla output in the form of articles on a 'page', you also have the output that is coming from three other sources -- any of which could present an error or multiple errors. The validation service does not point out which is the offending source of output, only the errors and on which line they appear.
Seeking out the reported errors can be a very time consuming process, however, there are some steps that you can do to help with your process.
The first thing I do when checking for the source of a site's errors is to 'rule out' possible sources. As I know in the case of a site with a Joomlashack template that the template is not the cause, I check that one off. I would next go to the code I inserted in articles and rule them out by unpublishing ALL articles and checking the validation. If the errors are gone, publish one article at a time until the offending code is found. If errors still persist after articles are ruled out, I next go to components as a possible source. One quick way to check components is to use a bit of code at the end of your site's URL that will remove the template and show the output of the site presented only as the output from the components in use. To do this, add the following at the end of your URL: /?tmpl=component So for example, if we wished to check the Joomlashack site's HTML with only the output of components in use we would put this in the Validation Service: http://www.joomlashack.com/?tmpl=component If that fails validation we know the offending code is coming from a component. If it's a simple site and does not have too many components in use or is a site still under development, I would recommend uninstalling ALL user installed component, reinstalling one at a time while checking the validation after each component is reinstalled. Doing this should help you pinpoint the offending code.
In the case of already developed sites or sites with large amounts of components installed the process above might not be possible, in which case it may be necessary to hire a professional to help you seek out the offending code. You may also wish to seek assistance in the Joomlashack Community Forum
Write comment (1 Comment)
Written by Tom Elliott

Tom Elliott

Category: Joomla 1.5 Joomla 1.5

Published: 24 March 2009

24 March 2009
SOLD OUT is the first New England Joomla Day at the incredible Marlboro Graduate School in Brattleboro (also the meeting place of the New England User Group).
We Vermont-based Shackers are pretty proud of our not-so-little local user group. Thanks to the leadership of Marlboro professor and Joomla developer Jen Kramer McKibben, the user group has really launched this past year. Its first-ever Joomla Day is totally filled up more than two months ahead of time. There must be some seriously pent-up demand for Joomla training and networking in our region!
On the agenda for Joomla Day New England:
Speakers include:
Joomlashack's Barrie North will be presenting (see above) and hanging out. If you wanted to attend but didn't register in time, let the user group know and maybe they'll put you on a list for last-minute cancellations. Hope to see you there!
Write comment (0 Comments)
Written by Tom Elliott

Tom Elliott

Category: Joomla Templates Joomla Templates

Published: 23 March 2009

23 March 2009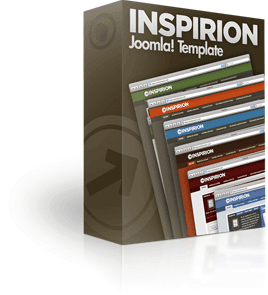 Got a medium-sized Web site in need of a good-looking template?
Our latest Joomla! template (Inspirion) is built on the popular 960 grid system. The 960 grid promotes balance, consistent white space, and usability.
Inspirion is XHTML Strict, CSS/Tableless, and makes use of semantic headings (h1-h3) Joomla! overrides for improved SEO.
Inspirion is medium-sized template integrated with IE transparency, CSS dropline menu system, excellent typography, and is available in multiple color styles (with PSD source).
Key features of Inspirion:
Write comment (3 Comments)
Written by Barrie North

Barrie North

Category: Joomla How To Joomla How To

Published: 17 February 2009

17 February 2009
In 2008, our sister site, Compass Designs ran a series of successful single day training classes for Joomla across new England. One question we was asked again and again was "when will you be running classes in 2009?"
People had mentioned interest in different types of classes and perhaps different locations. So, we have created a survey for anyone interested in Joomla training to fill out, and from that we'll be determining the most popular combinations of location and class type.
If you are interested in expanding your Joomla knowledge in 2009 make sure you enter in your choices!
Write comment (3 Comments)
Written by Barrie North

Barrie North

Category: Joomla How To Joomla How To

Published: 15 January 2009

15 January 2009
You may have noticed that Joomlashack is now running on Joomla 1.5. We did a stealth migration yesterday.
We had one problem we needed to address, and it took a while to figure out, so we thought we would share the solution for others.
Our old site used Joomla 1.0, as I have mentioned before, we wanted to make sure we did a 301 redirect of the Joomla URL's so Google would quickly pick up the new ones and pass the pagerank to the new pages. The problem however was that our 1.0 site used the raw URL:
http://www.joomlashack.com/index.php?option=com_content&task=view&id=37
We rapidly discovered that mod-write unfortunately will basically ignore all the php parameters here. You can't get rewrite to pay any attention to them.
Write comment (2 Comments)
Written by Tom Elliott

Tom Elliott

Category: Joomlashack Joomlashack

Published: 14 January 2009

14 January 2009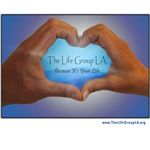 The Joomlashack community has spoken: The Life Group- LA is the winner of our 2008 Charity Contest!
LGLA narrowly edged out the very worth Global Conservation Assistance for first place. Joomlashack is proud to present a $1,000 USD contribution to the Life Group LA.
Write comment (20 Comments)
Written by Tom Elliott

Tom Elliott

Category: Joomla 1.5 Joomla 1.5

Published: 14 January 2009

14 January 2009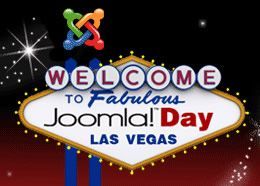 With Joomla so popular now that even Paris Hilton uses (and breaks) it [Editor note: It seems early reports of Ms. Hilton using Joomla are not accurate- see the comments in the original post from Joomla core team representatives], it's no surprise that new Joomla User Groups (JUGs) are popping up all over the map.
The latest is in Wisconsin, where the Milwaukee User Group will hold its first meeting in a couple weeks. A few of us Vermonters call the New England User Group home, which has grown to an impressive number and is now helping spin off another new JUG in the seacoast region of New Hampshire (near Portsmouth.)
And then there are Joomla Days like the upcoming one in Las Vegas. Unfortunately we'll never know what happens there, because what happens in Vegas... So you'd better find your own local Joomla User Group and/or Joomla Day to attend!
If you are involved in a JUG or Joomla Day and think we should blog about it here on Joomlashack, let us know!
Write comment (0 Comments)
Written by Tom Elliott

Tom Elliott

Category: Joomlashack Joomlashack

Published: 19 December 2008

19 December 2008
NOTE: Voting on this contest closed on 1/4/2009. Want to support our 2009 charitable efforts? Read about our matching program!
Support these five charities, but vote for just one!
Last month we asked our Joomlashack community to nominate their favorite charity for a $1,000 USD cash prize. Within 10 days, we had nominees from all corners of the globe and doing incredibly diverse work. Our team carefully reviewed every entry and then narrowed our list down to the five nominees below as our favorite five.
Please check out and then support each of these excellent and deserving organizations with an online contribution, and then vote for the charity that you think is most deserving of our $1,000 USD cash prize.
Voting ends Sunday, January 4th at 11:59pm EST
Write comment (2 Comments)
Written by Tom Elliott

Tom Elliott

Category: Joomla Templates Joomla Templates

Published: 14 December 2008

14 December 2008
Simplicity has been on the shelf at Joomlashack ever since Joomla's release, and no doubt it has been one of your favorites.
This month we've taken the time to go over this template with a fine-toothed comb in an effort to maximize its efficiency for Joomla! 1.5.
Simplicity is still one of the fastest templates in the world, almost 18 months after its release, and it remains one of the few source ordered, hard-core SEO templates around.
Today we'd like to invite you back to the Simplicity demo to have a look at its progression into the Joomla! 1.5 realm.
Check out these excellent new features:
Write comment (12 Comments)