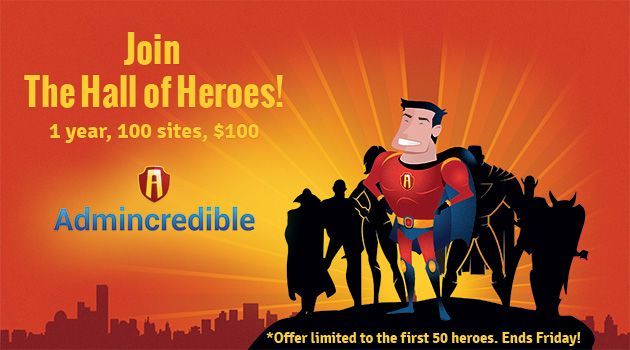 Hey there!
Admincredible is the ONE DASHBOARD to manage updates at the speed of light for all your Joomla 2.5 and 3 sites.
· Automatically update all of your Joomla 2.5 and 3 sites every time there is an update.
· Be vigilant as to how different updates might affect your Joomla sites.
· Worry less about keeping your sites safe from hackers who exploit vulnerable web sites.
A Special Invitation to Admincredible
We are happy to report that we are successfully moving along Admincredible's beta phase. Many important features are still being developed, but the beta is working reliably, and many of our testers' suggestions are finding their way into the final product, which is awesome.
We're now expanding our membership and inviting you to join Admincredible. Today we have a very special invitation to join what we are calling Admincredible's Hall of Heroes - - our Founder's Club.
Write comment (0 Comments)